Free Delivery WITHIN IRELAND & nORTHERN IRELAND.
Carlow, Cavan, Clare, Cork, Donegal, Dublin, Galway, Kerry, Kildare, Kilkenny, Laois, Leitrim, Limerick, Longford, Louth, Mayo, Meath, Monaghan, Offaly, Roscommon, Sligo, Tipperary, Waterford, Westmeath, Wexford and Wicklow. ni: Antrim, Down, Armagh, Derry/Londonderry, Tyrone and Fermanagh.
———————————————————————————————————
Getting Your Firewood Delivered Explained
Day 1: After making your purchase, the crate will be prepared for dispatch following business day, am hours
Day 2: Order Dispatch ( forwarded to the national pallet distribution)
Day 3-5: Delivery of your order.
Order Placed – Estimated Delivery Day
Monday (by 1pm) – thu, fri, Mon
Tuesday (by 1pm) – fri, mon, TUE
Wednesday (by 1pm) – mon, tue, WED
Thursday (by 1pm) – tue, wed, THU
Friday (by 1pm) – wed, thu, FRI
Saturday (at any time) – thu, fri, MON
Sunday (at any time) – thu, fri, MON
General Requirements of Kerb-side Delivery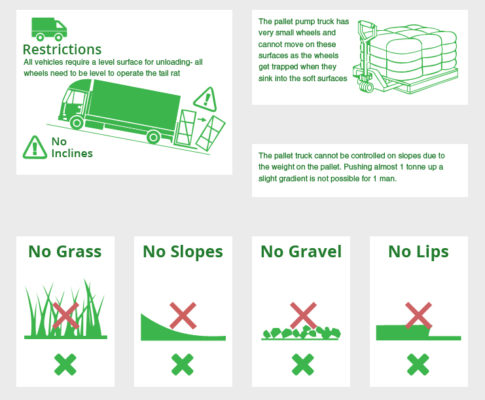 Your firewood is delivered on a vehicle that needs clearance of 3.8m in height, 3m in width and 7.5m in length in order to access your property. Please ensure that your delivery area is large enough to accommodate this size of the vehicle. The surface of the area should be level, not on a slope, and made of sturdy material, rather than grass. We cannot deliver pallets if the access road offers a smaller clearance space than is required, so ensure that the access roads all adhere to these specifications on the day of delivery. It is your responsibility to do so. All of our deliveries are kerbside. It is up to the driver's discretion to move your pallet elsewhere. A hard and even surface will be required in all cases where further pallet handling is required. There will be a redelivery charge of 40.00 (min) and delivery surcharges where they are applicable/per crate for every additional delivery attempt when there has been no one there to receive the delivery or the delivery cannot be left safely! It is your responsibility to ensure that the delivery point is suitable when placing your order, as per the given instructions. Please contact us if you have any questions about this. For a short video presentation on how your palletized goods are delivered, please click here:
https://www.youtube.com/watch?v=ffcnT5IvQaY
Adding Delivery Comments
During the checkout process, please inform us of any delivery preferences you may have in terms of where you would like us to leave your firewood. Please take note that we are contracted to deliver to the kerbside of properties. It is down to the driver's discretion whether they leave the pallets elsewhere, so it's down to them whether or not deliveries will be made to other locations on your property.