Low-Costs Accredited Wood Fuel Online
Loyalty Rewards | Referral Scheme | Money Back Guarantee
frequently asked questions
Where do you deliver?
We are based in Dublin and provide delivery services to all of Ireland and Northern Ireland. The cost of delivery is already included in the price you pay. In most cases for deliveries in Dublin we use our own transport from our warehouse or outsource Independent Express. For the rest of the Ireland and NI we only use Independent Express.
How wood is delivered?
All of our delivery vehicles are fitted with a tail-lift and a pallet truck for easier, more efficient transportation.
Can I specify delivery date?

Yes. We ask for a few extra days to make sure your order arrives on the specified date. If you want to specify a delivery day, please enter it in the delivery comments box. If it turns out that this isn't possible, we'll email you to reschedule the delivery date.
Are there certain requirements for delivery on site?

Deliveries are contracted to kerbside only. Standard deliveries are done either on an 18 tonne vehicle measuring 2.8m wide x 4m high x 11m long (including the tail lift), or 12 tonne vehicle 2.8m wide x 3.4m high x 9.3m long (including the tail lift).The delivery onto the property will be done on a pallet pump truck if possible and at the discretion of the haulier. Unfortunately, it is not possible to use pallet truck and drive over curbs, granite shards, gravel.
What will happen after I placed my order?

You'll get an SMS to confirm that we've received your order.
You'll also receive an email from us – it might land in your spam or junk folder but don't worry, we've still got it!
Lastly, you'll get a payment confirmation from either Stripe or Paypal, confirming that the transaction was successful.
How long will I have to wait for delivery?

Generally, orders will be delivered 3-4 working days after they have been dispatched. Most of the time deliveries arrive on day 3, with the remaining orders being delivered on day 4. In very rare cases delivery may take up to five days.
Will I get call from delivery driver?

Yes, when we dispatch your order, your contact details will be passed on to the courier. In very rare cases the driver may attempt a delivery without notifying you beforehand – but don't worry! This is against our delivery code of standards and they always call ahead before delivering. Let us know if this ever happens to you.
Can I cancel my delivery?

Yes, you can. For more info please check https://www.buyfirewooddirect.ie/refund_returns/
How do I get my referral credit?

When you refer someone to us, make sure to email us their details so we can check them. Once this has been confirmed, we'll release the credits to both of you and the payment will be made to the card used for purchasing goods.
LOGS FOR WOOD BURNING STOVES
There's nothing quite like heating your home with a beautiful log burning stove. Our range of logs designed for wood burning stoves are ideal for minimizing emissions and ensuring a long lasting, hot fire that will create that warming ambience that we all love.
Kiln-dried wood has a low moisture content and will therefore burn cleaner than air dried. This allows you to trust your choice of log. We also cut our logs to around 25cm – to fit in 98% of log burners. Choose from various hardwoods and in a quantity to fit your storage space. Simply choose the logs that work best for you and we can deliver for free right to your home.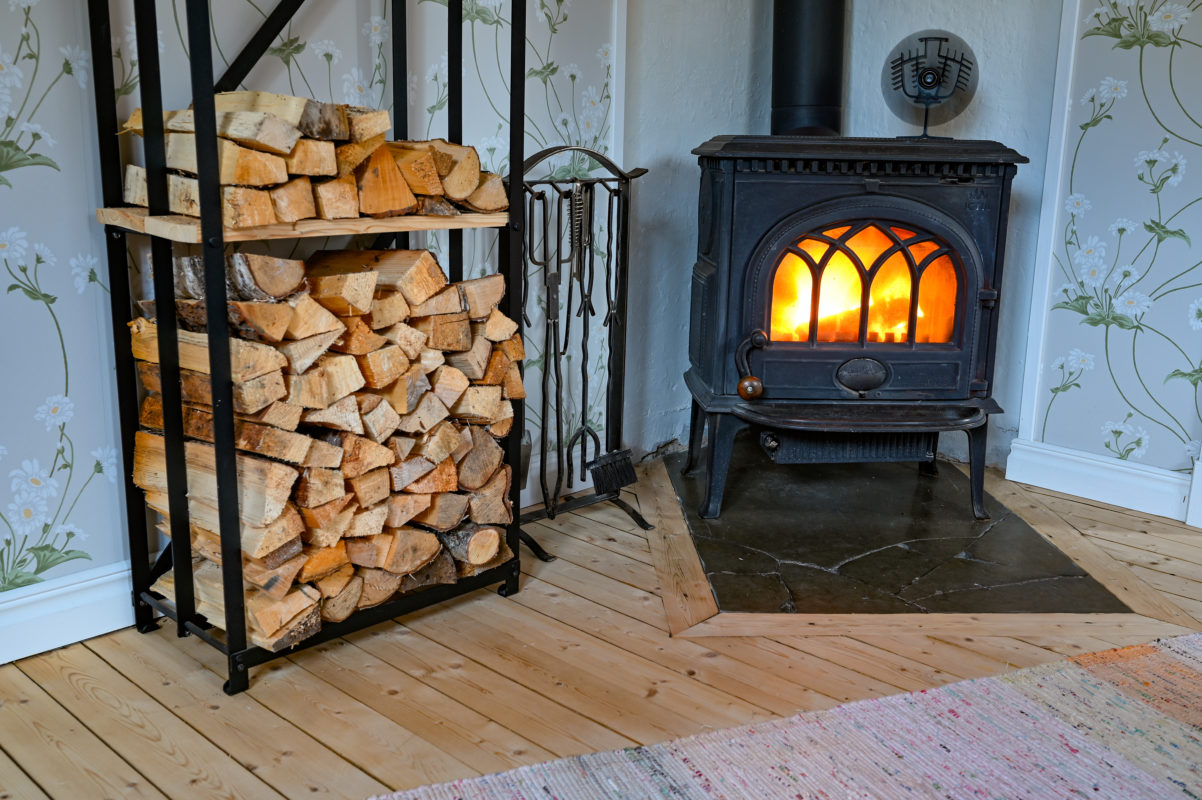 LOGS FOR OPEN FIRES
Open fires are the perfect way to beat rising energy bills and to create a warm and soft glow in your home. The crackling of an open fire is almost better than the TV!
We take care to create wood logs that meet emissions requirements for open fires. With a low moisture content, kiln-dried hardwood provides a low smoke emission heat that will allow you to enjoy your fire with complete peace of mind. While our logs provide the classic crackling sound, they are less likely to spark and will burn longer than higher moisture options.
Cut to the perfect size for the average open fire grate, our logs can be delivered direct to your home in the quantity that you need – whether that is for a special occasion fire or for regular use throughout the winter months.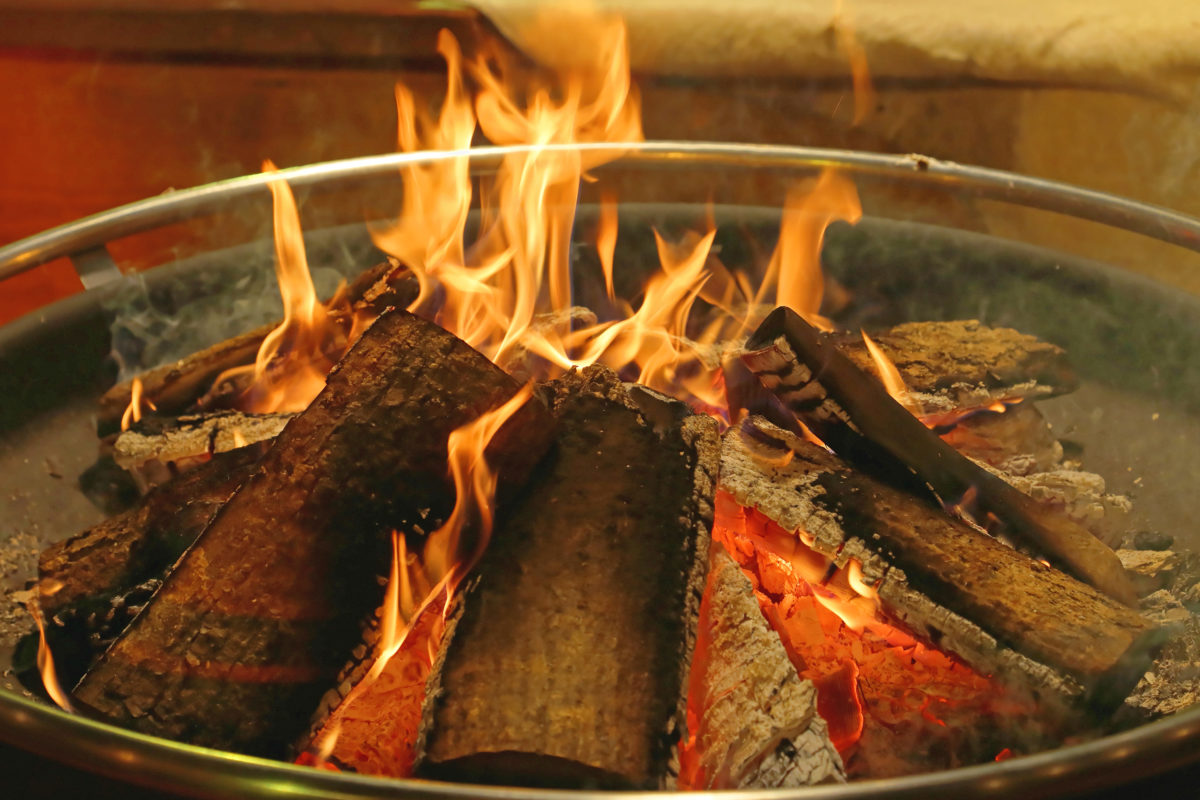 LOGS FOR Wood FireD Pizza Ovens
There's nothing nicer than the smell of a freshly baked pizza coming straight from a wood fire pizza oven. Add to that the aroma of a high-quality burning hardwood like oak or ash and you have the makings of a night to remember.
Our range of kiln-dried wood logs are cut to the perfect size for you to create that hot, even temperature oven environment that you need for the perfect slightly charred pizza. Our low moisture logs burn evenly over a long period of time, getting up to temperature quickly. No one likes to wait for their dinner!
Delivered direct to your door all year round, you will be able to choose from small quantities or larger crates depending on how much use your pizza oven will get!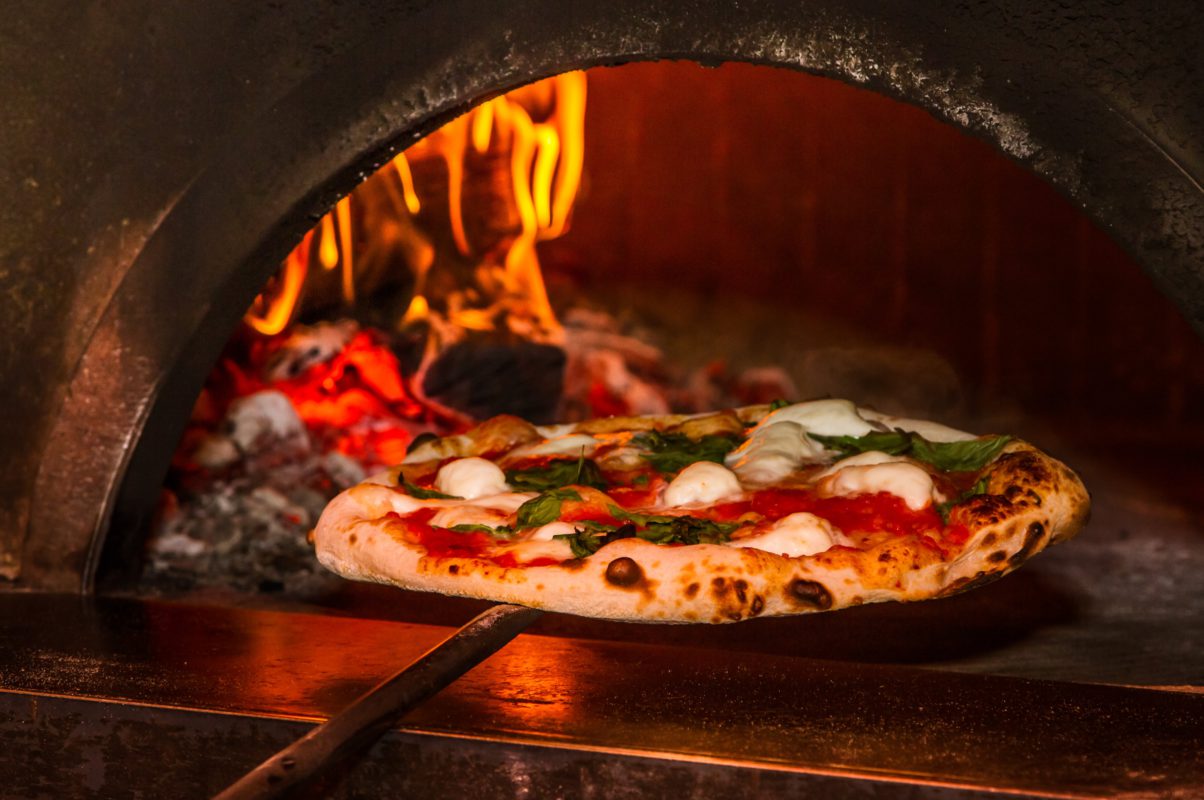 ABOUT US
Buy Firewood Direct is a producer and seller of kiln dried hardwood firewood logs. Established in 2014, we are proud to have served more than 15,000 customers and to have made thousands of hassle-free home deliveries every year.
Based here in Ireland, we are masters of our craft – producing wood that is clean burning and ideal for use in domestic stoves, log burners, BBQs and fireplaces. We believe that we offer the very best quality kiln-dried hardwood firewood that you can buy, at the most competitive price.
We are committed to producing uniformed-sized logs using certified locally sourced, sustainable wood including alder, birch oak & ash. Available in crates or netted bags – you can choose just the right amount to suit the storage space you have and your budget.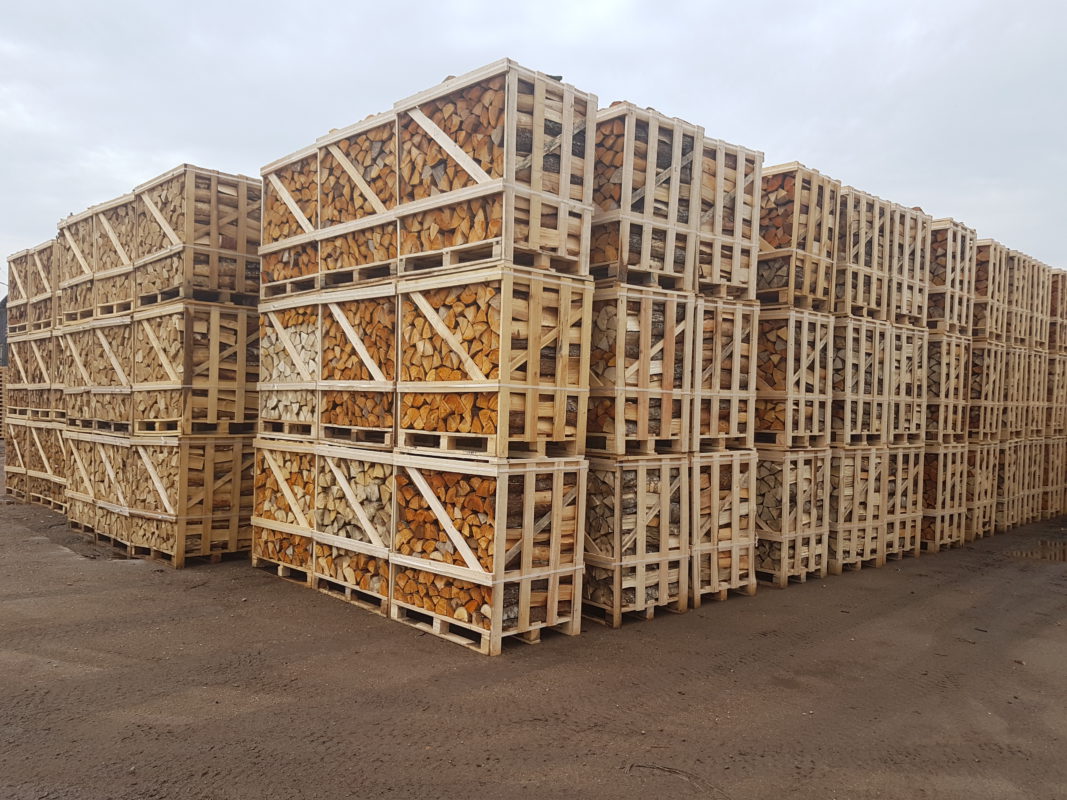 Trade & Caterers & Wholesale
While we deliver to domestic retail customers, we are also committed to our trade, caterers and wholesale clients. We understand that your business is your livelihood, and you need reliable service that includes delivering when we say we will and ensuring the very best quality product every time.
As a business you also need to reassure your customers that you are meeting eco requirements for your wood products and that you are reducing your carbon footprint wherever possible. Our certified kiln-dried woods meet highest standards for open fires, pizza ovens and wood burning stoves, making it the easy choice. We use sustainable local sources of wood and it is locally kiln-dried.
As a business customer we can negotiate the very best price for you and deliver higher quantities depending on your requirements and your budget. Just give us a call to discuss your needs and we can talk through your options.



Why us?
• We have been in the business for almost a decade and have thousands of satisfied customers.
• We understand government eco-standards and produce kiln-dried products that meet the standards required in every area that we operate.
• Our wood is locally sourced and sustainable.
• We kiln-dry our wood so that it has one of the lowest moisture levels in the industry. This makes it clean burning and long lasting.
• We offer free delivery of a huge range of quantities to meet your every need from smaller crates to a large pallets of netted logs.
• Our logs are cut to the size you require whether you have an open fire, a log burner or an outdoor pizza oven.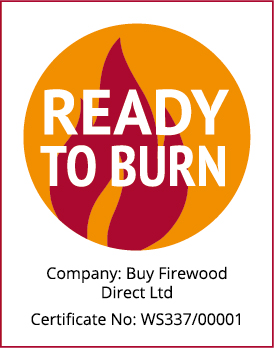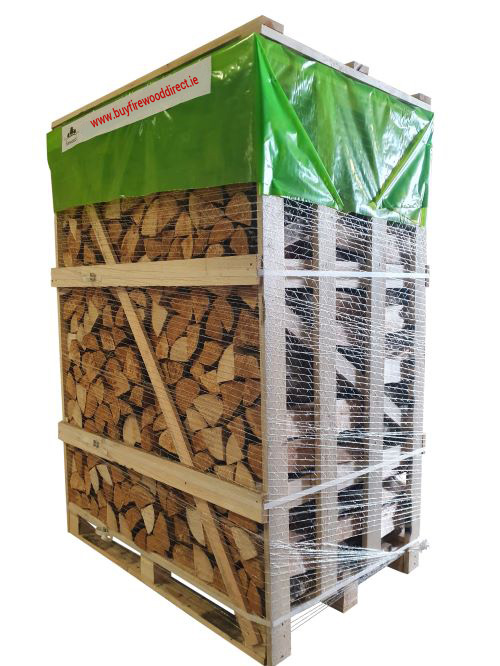 LARGE CRATES KILN DRIED MIXED HARDWOODS
Now from €400,- incl. delivery to anywhere within Ireland & 13.5% VAT. Crate equates to 2.35 m3 loose volume, that's €171 / per cu. m delivered. Our best selling firewood crate.
ORDER NOW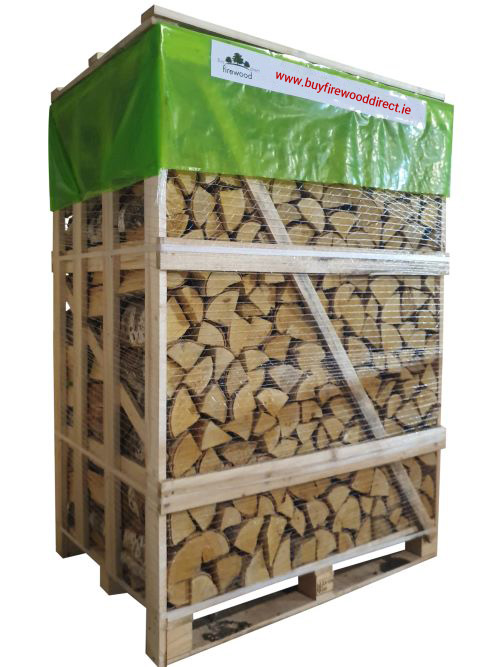 LARGE CRATES KILN DRIED BIRCH HARDWOODS
Now from €420,- incl. delivery to anywhere within Ireland & 13.5% VAT. Crate equates to 2.35 m3 loose volume, that's €179 / per 1 cu. m birch delivered. Our second best selling firewood crate.
ORDER NOW
DOUBLE STACK ( 2 STANDARD CRATES) OF KILN DRIED LOGS
Now from €400,- incl. delivery to anywhere within Ireland & 13.5% VAT. Crate equates to 2.1 m3 loose volume, that's €191 / per cu. m delivered. Our third best selling firewood crate option.
ORDER NOW